Abraham Adesanya Polytechnic Post-UTME 2020: Cut-off mark eligibility and registration details
Posted by
Chrome
on 30th September, 2020 | Comments
Applications are invited from suitably qualified candidates for the National Diploma and Higher National Diploma programmes of the Polytechnic.
GENERAL REQUIREMENTS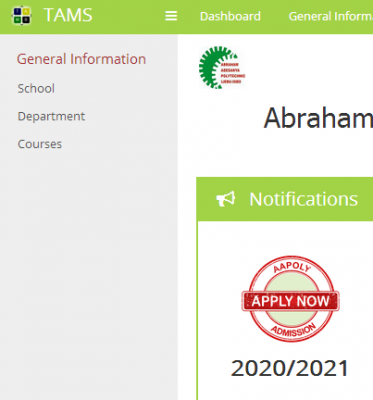 Applicants who score above 120 in the 2020 UTME for admission into full-time National Diploma. Meanwhile, applicants that score BELOW 120 can apply for part-time (weekend) National Diploma. Applicants who have completed their National Diploma and the mandatory 1 year IT programme can apply for the Higher National Diploma programmes.
Prospective applicants are strongly advised to check the JAMB Brochure and carefully study the O'Level requirements for the courses applied for before completing the online application form.
METHOD OF APPLICATION
1. Click on this link https://my.aapoly.edu.ng/admission/index.php, and select your programme.
2. Apply for the Admissions process by clicking Apply Now on an open Application
(Please fill the form correctly and supply a VALID EMAIL ADDRESS because your login details will be sent to whatever email address you provide)
3. Check your email inbox (or Spam) for your Applicant ID and Password
4. Return to the website and Click Login to access Application Form
Click here to login https://my.aapoly.edu.ng/login.php
5. Continue by paying the necessary fees and then carefully filling the Application Form and click submit
6. Print the Application form and Examination Slip with the examination date on it