ABUAD important information for parent/guardians and students
Posted by
agbojays
on 4th October, 2020 | Comments
The management of Afe Babalola University (ABUAD) has published important information for Parents, guardians, and students ahead of the resumption of academic activities.
See details below;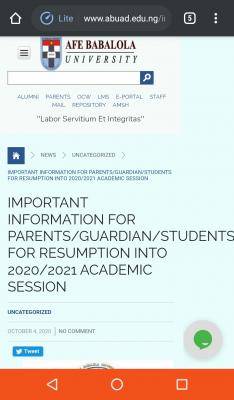 ALL STUDENTS SHALL BE SCREENED AT THE UNIVERSITY MAIN GATE.
THE SCREENING EXERCISE STARTS FROM 8AM- 6PM DAILY.
STUDENTS SHALL NOT BE ALLOWED TO ENTER THE UNIVERSITY AFTER 6 PM.
STUDENTS SHALL NOT BE ATTENDED TO OUTSIDE THE DESIGNATED DAYS FOR THEIR DEPARTMENT AND LEVELS.
PARENTS WITH MORE THAN ONE WARD CAN COME AT ANY OF THE DESIGNATED DAYS ASSIGNED FOR THE STUDENT.
NO STUDENT SHALL BE ALLOWED TO ENTER THE UNIVERSITY WITHOUT EVIDENCE OF PAYMENT.
ALL PAYMENTS MUST BE MADE BEFORE RESUMPTION.
STUDENTS SHALL ONLY BE ALLOWED TO CARRY A MAXIMUM OF TWO BOXES/LUGGAGE INTO THE UNIVERSITY.
STUDENTS MUST BRING ALONG THEIR RECEIPT OF PAYMENTS OF THEIR PERSONAL SMART DEVICES (laptops, tablets, mobile phones e.tc.)
ANY STUDENT CAUGHT WITH CONTRABAND OR POSITIVE FOR ILLEGAL SUBSTANCES SHALL BE SENT BACK HOME.
STUDENTS WHO ARE FOUND POSITIVE FOR EXPOSURE TO COVID-19 SHALL REQUIRE A CONFIRMATORY PCR TEST. PCR TEST SHALL BE CARRIED OUT AT THE STUDENTS' EXPENSE.
Signed
Management