Bowen University school fees for the 2020/2021 session
Posted by
Chrome
on 5th October, 2020 | Comments
This is to inform new and returning students of Bowen University that the management of the university has published that school fees for the 2020/2021 academic session. This is for all levels of students in the university.
The breakdown of the fees has been made available on the school's website. Visit this link: https://bowen.edu.ng/about-2/tuition-fee/#second-semester-fees-categories-a-d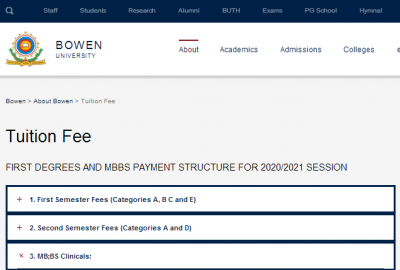 NOTE:
1. The school will not entertain any refund of fees after payment has been effected for whatever reason.
2. Overpayment of fees will be credited into students' account and sorted out at graduation if it has not been fully utilized by then.
3. All Students are required to register for their semester courses within the first three weeks of resumption. Registration is contingent on payment of all
prescribed fees. Late registration after three weeks attracts a penalty of 5 percent of whatever amount stands against the student as total outstanding fees plus N5,000.00 for late course registration.
4. Feeding shall be by approved Cafeteria Services for which students themselves Pay As They Eat (PATE).