COE Gindiri Acting Provost calls for stakeholders' support
The College of Education, Gindiri, Plateau State Acting Provost, Prof Cletus Gotan has called for collaboration of workers and stakeholders of the institution to enhance development.
He made this appeal during an interactive session with members of the Plateau State House of Assembly Committee on Education, adding that the college has witnessed vast developments since his appointment in June 2018.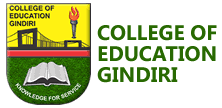 Prof Gotan remarked that some challenges such as non-issuance of Students' ID card, debts, truncated academic activities, restoration of broken-down/destroyed properties and buildings as a result of students' unrest, inability to access the Tertiary Education Trust Fund (TETfund) intervention grants, and non-accreditation of courses that have been faced by his administration have been addressed.
The Acting Provost said the institution's degree programme would commence soon and plans were being made to improve the college's internally generated revenue (IGR).0