COOU Resumption Date for Completion of 2019/2020 Session
Posted by
Dende
on 3rd October, 2020 | Comments
This is to inform all students of Chukwuemeka Odumegwu Ojukwu University (COOU) that the new Resumption Date for all students is Monday 5th October 2020.
This was disclosed in an internal Memorandum signed by the University's Registrar, Dr. (Mrs) Ngozi Ezeibe with Ref No: COOU/R/SM/40.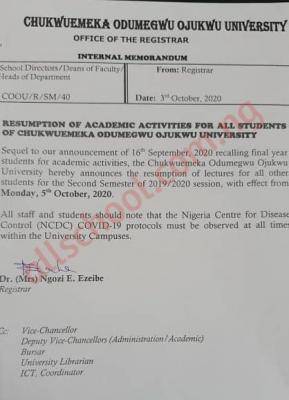 The memo fully reads:
RESUMPTION OF ACADEMIC ACTIVITIES FOR ALL STUDENTS OF CHUKWUEMEKA ODUMEGWU OJUKWU UNIVERSITY
Sequel to our announcement of 16th September 2020 recalling final year students for academic activities, the Chukwuemeka Odumegwu Ojukwu University hereby announces the resumption of lectures for all other students for the second semester of 2019/2020 session, with effect from 5th October 2020.
All staff and students should note that the Nigeria Center for Diseases Control (NCDC) Covid-19 protocols must be observed at all times within the university campus.