This is to inform the Polytechnic Community that the resumption date for the second semester 2020/2021 session is Sunday, July 4, 2021.
Arising from the above, lectures will commence immediately on Monday, July 5, 2021.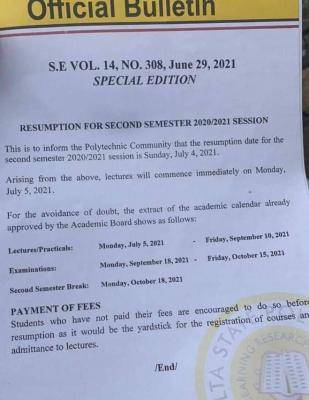 For the avoidance of doubt, the extract of the academic calendar already approved by the Academic Board shows as follows:
Lectures/Practicals: Monday, July 5, 2021 – Friday, September 10, 2021
Examinations: Monday, September 18, 2021 – Friday, October 15, 2021
Second Semester Break; Monday, October 18, 2021
PAYMENT OF FEES
Students who have not paid their fees are encouraged to do so before resumption as it would be the yardstick for the registration of courses and admittance to lectures.