Delta Poly Ozoro Reschedules On-Going First Semester Examination
Posted by
MTH216
on 9th October, 2020 | Comments
The management of the Delta State Polytechnic, Ozoro has released a circular letter rescheduling the disrupted first-semester examination to a later date. The notice read thus;
Following the disruption of the examination scheduled for today, Friday 9th October 2020, management has decided that all such examinations be rescheduled to a later date.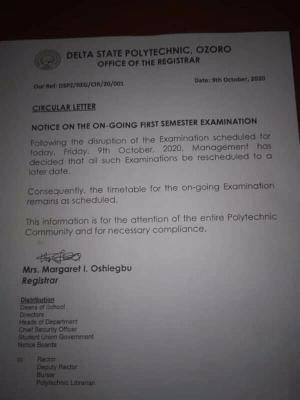 Consequently, the timetable for the on-going examination remains as scheduled.
This information is for the attention of the entire Polytechnic community and for necessary compliance.