This is to reiterate that the ban on 'WATER LIBATION' by graduating students on completion of their examination is still in FORCE.
In the light of the above, any student or group of students especially ND II & HND II students caught indulging in this act of "water libation' or similar acts inimical to too or welfare of any student would be made to face Student Disciplinary Committee result of such student(s) would be withheld until the determination of the case.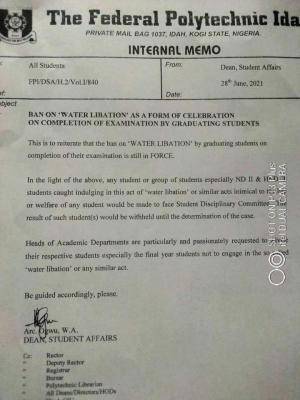 Heads of Academic Departments are particularly and passionately requested to their respective students especially the final year students not to engage in the so "water libation" or any similar act.
Be guided accordingly, please.