This is to remind all students presently occupying the school hostel (V.V.L Okoye, Grace Obayi and Utuma Campus) that the 2019/2020 academic session for which you paid for will come to an end on the 19th of July 2021. In view of this, you are expected to comply with the following;
1. YOU ARE REQUIRED TO VACATE THE HOSTELS IMMEDIATELY YOU FINISH YOUR EXAMINATIONS; AS NO BODY WILL BE ALLOWED TO REMAIN IN THE HOSTEL BEYOND 20th JULY 2021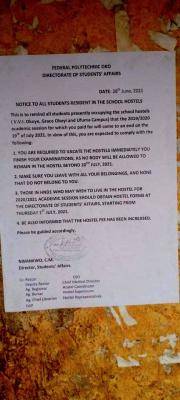 2. MAKE SURE YOU LEAVE WITH ALL YOUR BELONGINGS, AND NONE THAT DO NOT BELONG TO YOU.
3. THOSE IN HND I WHO MAY WISH TO LIVE IN THE HOSTEL FOR 2020/2021 ACADEMIC SESSION SHOULD OBTAIN HOSTEL FORMS AT THE DIRECTORATE OF STUDENTS AFFAIRS, STARTING FROM THURSDAY 1st JULY, 2021 & BE ALSO INFORMED THAT THE HOSTEL FEE HAS BEEN INCREASED
Please be guided accordingly.