The Federal Government has declared Tuesday, July 20 and Wednesday, July 21, 2021 as Public Holidays to mark the 2021 Eid ul Kabir Celebrations Consequently, you are advised to observe it at home.
All examinations scheduled to hold on the affected days have been shifted to Saturday 24th July and Monday 26th July, 2021 respectively.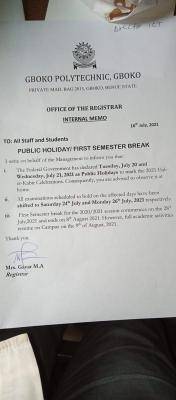 First Semester break for the 2020/2021 session commences on the 28 July 2021 and ends on 8 August 2021. However, full academic activities resume on Campus on the 9th of August, 2021.