Gregory University scam alert notice to students
Posted by
Chrome
on 6th October, 2020 | Comments
The Management of Gregory University Utum has observed with dismay the heinioius activities of some dubious individuals who are deploying fraudulent websites and personal bank accounts to defraud prospectrve candidates seeking admission to the university in the current 2020/2021 Academic Session.
Specifically, management wishes to alert the public of the unwholesome activities of a certain Dr.Faith Bagudu who while claming to represent the institution has been in the practice of defrauding unsuspecting persons of huge sums of money through their personal Access Bank Account with the number 1394599479.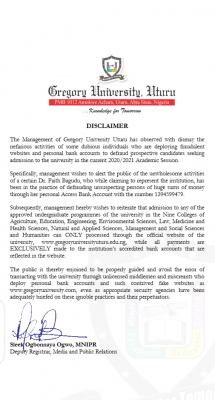 Subsequently, management hereby wishes to reiterate that admission to any of the approved undergraduate programmes of the university in Nine Colleges of Agriculture, Education, Engineering, Environmental Sciences, Law, Medicine and Healh Sciences, Natural and Applied Sciences, Management and Social Sciences and Humanities can ONLY be processed through the official website of the university, www.gregoryuniversityuturu.edu.ng while all payments are EXCLUSIVELY made to the institution accredited bank accounts that are reflected on the school's website.
The public is thereby enjoined to be properly guided and avoid the error of transacting with the university through unlicensed middlemen and miscreants who deploy personal bank accounts and such contrived fake websites as www.gregoryuniversity.com even as appropriate security agencies have been adequately briefed on these ignoble practices and perpetuators.
Sleek Ogbonnaya Ogwo, MNIPR
Deputy Registrar, Media and public relations