Myschool CBT Challenge Season 7 – Half a Million Naira in cash prizes to be won
Myschool CBT Challenge Season 7 – N500,000 Cash Prizes + Other Consolation Prizes To Be Won!
Hello Myschoolers!!! We are pleased to announce the commencement of the Myschool CBT Challenge Season 7. This competition is held by Myschool every year, and it is the biggest online students' contest in Nigeria where students get to win prizes every week.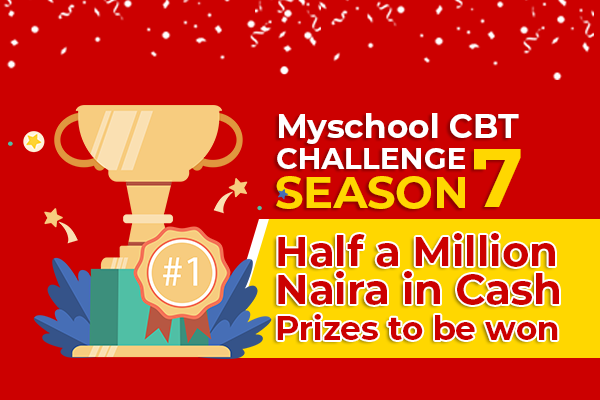 This year, we are increasing our cash giveaway and will be giving out five hundred thousand naira (N500,000) to the best students in the contest. We are on the lookout for smart students who can participate in the challenge and win the prize money.
We will also be gifting activation pins plus recharge top-ups to the first 10 students on the Myschool CBT Ranking, while next set of 10 students on the ranking (11th – 20th) will get free activation pins for Myschool app and software as well.
The Contest
The challenge aims to promote learning among Nigerian students and to reward academic excellence. It offers students the opportunity to learn, have fun and win awesome cash prizes. This is also our way of giving back to Nigerian students who have been with us over the years. We will keep doing this every year.
We specifically urge candidates preparing for external exams like JAMB, WAEC and NECO to be a part of this challenge as it will help them to quickly and easily cover past questions, as well as gain relevant experience and confidence needed to do well in their exam(s), while also winning cash prizes, activation pins and recharge top-ups. This will be fun.
For the five-week duration, we encourage students to participate in the challenge as it will allow them to win weekly cash prizes worth one hundred thousand naira (N100,000), free activation codes for either Myschool CBT Android App or Myschool CBT Computer Software (which they can also sell to anyone if they wish) plus free MTN top-ups.
This year, we are adopting a new system to the way winners emerge. This will enable students to concentrate on the competition, learn more and also enable many students to win. We simply like to offer more students the opportunity to win something from Myschool.
As a result of these changes, the top 100 students on the Myschool CBT ranking stand equal chances to win a prize. Selection for this year's winners will be broadcast LIVE via a random electronic draw in which only the first 100 students in the Myschool CBT ranking are qualified to a win. 20 winners determined by the random draw will be selected and announced each week as winners. This electronic draw will be broadcast LIVE on both the Myschool Facebook and Instagram pages. You must follow our social media platforms, as your membership will form part of our winner verification process.
Even though our winner selection process is via an electronic draw, you are still encouraged to come within the first 20 students on the Myschool CBT ranking as you are sure to win MTN top-ups and free activation pins as earlier stated.
When Is The Challenge Starting?
The five-week-long contest will begin by 12:01 am on Monday, November 16th, 2020 and will run till 12:59 pm on Monday, December 21st, 2020. Winners will be announced via a live broadcast on both the Myschool Facebook and Instagram pages every Tuesday of the following week by 11 am prompt.
Who is Eligible to Participate?
This challenge is open to every Nigerian student and it's 100% free. This means you do not need to pay anything to be part of this. All you need to do is become a member of the website. Click here and join for free. You need the account to access the Myschool CBT Classroom Exam. But if you are already a member, then you are good to go.
You must follow us on Facebook and Instagram as those are the platforms where we will be announcing the winners in a live broadcast by 11 am every Tuesday. Join now to avoid forfeiting your prize to someone else.
Facebook page; https://www.facebook.com/MyschoolNigeria
Instagram page; https://www.instagram.com/myschoolnigeria/
Twitter page; https://twitter.com/MyschoolNigeria
Weekly Prizes
20 winners, randomly selected via the electronic draw, will be credited with five thousand naira (N5,000) each weekly.
While the 20 winners will be randomly selected, the top students on the ranking are sure to get the following prizes;
1st – 10th Ranking Prize = Free Activation Codes for either Myschool CBT Android App or Myschool CBT Computer Software (which can be sold to anyone) + N1,000 free MTN top-ups.
11th – 20th Ranking Prize = N1,000 Free Activation Codes for either Myschool CBT Android App or Myschool CBT Computer Software (which can be sold to anyone).
Please note that any of the 20 randomly selected winner, who falls on any of the rankings stated above, also wins the prize for that rank.
How To Participate
1. Visit the Myschool CBT Exam Page. The direct link is https://www.myschool.ng/classroom/exam
2. Read instructions on the page, then select the "JAMB SIMULATOR" as the exam option.
3. This year, MATHEMATICS and ENGLISH are compulsory. If you intend to qualify to win, you must select MATHEMATICS and ENGLISH. Select your 2 other preferred subjects, and select the "FULL EXAM MODE". Only "full exam mode" is allowed for the contest.
4. Correctly solve the questions given to you by the system, and be among the top 100 students of the CHALLENGE RANKING, as graded by the Myschool CBT Ranking System.
The system collates the raffle draw contestants for a particular week at exactly 12:01 AM on Monday of the following week. Once you fall in the top 100 at that time, YOU QUALIFY FOR THE DRAW! If you are still writing at the time the system collates winners, you automatically fall into the new week.
Remember, the first 20 students on the Myschool CBT ranking for each week will automatically be rewarded with airtime and free activation codes. Always strive to come out tops every week to guarantee you win something.
Eligible Subjects for the Competition
The only subjects allowed for selection for this year's Myschool CBT Challenge, are as follows;
The Trick!
The ultimate trick to be among the winners for each week is to write as many exams as possible and to score a high cumulative score to be among the top 100, in as many FULL EXAM MODE sessions as possible. The more FULL EXAM MODE sessions you can complete, the higher your chances of being among the top 100. This simply means that you gain additional points each time you practice.
Be among the top 20 on the Myschool CBT ranking, and you're sure to win something from Myschool.
Getting Your Prize
Once you are confirmed a winner of any of the prizes, your earnings on the Myschool dashboard will be credited. When you reach the payout threshold, you can then proceed to provide your bank account details and request for a payout directly to that account when ready. If you wish, you can wait until the entire competition is over to cash out all your winnings at once.
The Myschool App & Software Advantage;
Oh yes, those who have the activated version of the Myschool CBT Mobile App and Myschool CBT Computer Software can participate too. In fact, they have an advantage! A lot of winners emerge from the app and software because these tools are faster during the exam as you don't require the internet to load questions. This gives you more time to practice and better time advantage. You only require minimal internet to send your scores to the Myschool CBT ranking. To enjoy this advantage, get the app and activate it.
What To Do Now?
While we wait for the challenge to begin, you can start preparing by practising the Myschool CBT questions. If you are yet to sign up or create a free account, click here now to do so and Join the Myschool CBT Classroom. If you already have an account, what are you waiting for? Click here to start getting ready right away.
Also, remember to follow us on all our social media handles to stay updated at our Twitter handle via https://twitter.com/MyschoolNigeria, Instagram Page on https://www.instagram.com/myschoolnigeria/ and Facebook page on https://www.facebook.com/MyschoolNigeria
Kindly note that Myschool reserves the right to modify the terms and conditions of this challenge at any time to ensure fairness to all contestants.
Goodluck Myschoolers!!!