PAMO University of medical sciences scam alert notice
Posted by
Chrome
on 29th September, 2020 | Comments
The attention of the management of PAMO University of Medical Sciences has been drawn to some fraudulent activities by some individuals soliciting for payments and processing of admission into our Institution.
Please, be informed that all the application process is done through the university portal, https://pums.edu.ng.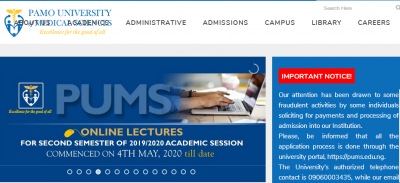 The University's authorized telephone contact is 09060003435, while our email contact is registrar@pums.edu.ng.
Thank you