Tansian University school fees for 2020/2021 session
Posted by
Vek Tor
on 6th October, 2020 | Comments
The management of Tansian University has published a breakdown of school fees for the 2020/2021 academic session. The breakdown os as shown below;
FINANCIAL INFORMATION FOR FULL-TIME (2020/2021 ACADEMIC SESSION)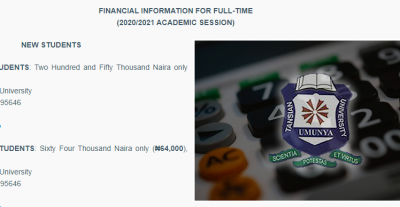 NEW STUDENTS
Tuition Fee for NEW STUDENTS: Two Hundred and Fifty Thousand Naira only (₦250,000), payable into:
Account Name: Tansian University
Account Number: 0018395646
Bank: Access Bank Plc

Sundry Fees for NEW STUDENTS: Sixty Four Thousand Naira only (₦64,000), payable into:
Account Name: Tansian University
Account Number: 0018395646
Bank: Access Bank Plc

Accommodation Fee for NEW STUDENTS: Fifty Thousand Naira only (₦50,000), payable into:
Account Name: Tansian University Project A/C
Account Number: 1007347983
Bank: Keystone Bank Ltd

Health Fee for NEW STUDENTS: Six Thousand Naira only (₦6,000), payable into:
Account Name: Tansian University Project A/C
Account Number: 1007347983
Bank: Keystone Bank Ltd

Books (Four different books for GST) for NEW STUDENTS: Seven Thousand Naira only (₦7,000), payable into:
Account Name: Tansian Missionaries Book Sales
Account Number: 1015742460
Bank: Zenith Bank Plc

RETURNING STUDENTS
Tuition Fee for RETURNING STUDENTS: Two Hundred and Fifty Thousand Naira only (₦250,000), payable into:
Account Name: Tansian University
Account Number: 0018395646
Bank: Access Bank Plc
Sundry Fees for RETURNING STUDENTS: Thirty Two Thousand Naira only (₦32,000), payable into:
Account Name: Tansian University
Account Number: 0018395646
Bank: Access Bank Plc

Accommodation Fee for RETURNING STUDENTS: Fifty Thousand Naira only (₦50,000), payable into:
Account Name: Tansian University Project A/C
Account Number: 1007347983
Bank: Keystone Bank Ltd

Health Fee for RETURNING STUDENTS: Six Thousand Naira only (₦6,000), payable into:
Account Name: Tansian University Project A/C
Account Number: 1007347983
Bank: Keystone Bank Ltd

Instructions
Students are to pay their fees online via this link: tansianuniversity.edu.ng/fees-payment.html
Being a private fee-paying institution, all students are expected to pay prescribed fees for all services to be provided by the University.
To be considered a bona-fide student of the University;
a. Evidence of payment is compulsory.
b. Payment of prescribed fees is on a sessional basis for both full-time and part-time programmes.
c. All payments must be made to designated banks in accounts payable to Tansian University, Umunya.
d. Students shall be issued receipts for all payments made.
e. Clearance cards shall be issued to students on full payment of stipulated fees for each session.
f. Students should ensure safe custody of their receipts and clearance cards.
g. Each student is allotted a ledger account that contains the student's financial transactions for the duration of his/her course of study at the University.
h. Requests for refund of excess payment by students will only be entertained at the end of the course of study.
For further information call: 08039310930, 08032758361, 07066994499